For years, tetrahydrocannabinol (THC) got all the attention. While THC certainly delivers its own benefits (such as relaxation and pain relief), there's a whole host of other – and often overlooked – compounds found in cannabis with important benefits as well. THC is truly only the tip of the iceberg when it comes to cannabis's potential.
As the cannabis industry evolves with changing consumer tastes and developing medical research, growers may employ techniques to boost cannabinoid and terpene profiles in their harvests – beyond merely focusing on THC. Advanced LEDs allow growers to elicit specific biological responses in cannabis crops, including increased concentrations of these naturally occurring chemical compounds.
The Foundation of Cannabis's Effects
Whether used medicinally or otherwise, cannabis has changed our society and many of our lives – and there's a collection of naturally occurring chemical compounds, known as cannabinoids and terpenes, to thank.
The cannabinoids THC and CBD are the most common and well-researched, however they are accompanied by more than 200 additional compounds, including cannabinol (CBN), cannabigerol (CBG) and tetrahydrocannabivarin (THCV), among others.
The cannabis plant also contains terpenes. These structures are responsible for giving flowers (including cannabis), fruits and spices their distinctive flavors and aromas. Common terpenes include limonene, linalool, pinene and myrcene.
Both cannabinoids and terpenes are found in the cannabis plant's glandular structures known as trichomes. Look closely, and you'll notice trichomes coating the cannabis flowers and leaves, giving the plant an almost frosty appearance.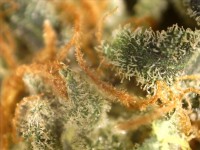 Trichomes – which are found across several plant species – are a key aspect of a cannabis plant's survival. The specific combination of metabolites produced by trichomes may attract certain pollinators and repel plant-eating animals. Moreover, trichomes (and specifically THC) may act as the plant's form of sunscreen and shield the plant from harmful ultraviolet rays.
While they play an essential part in the cannabis plant's lifecycle, trichomes are volatile and easily influenced by a range of environmental factors, including light, heat, physical agitation and time. Therefore, environment is a defining variable in the development of these important structures.
How LEDs Support Cannabinoid and Terpene Development in Crops
Spectrally tunable LEDs give indoor cannabis growers unparalleled control over their crops. As research has expanded about plants' responses to the light spectrum, growers have discovered they are able to elicit certain physiological responses in the plant. This phenomenon is called photomorphogenesis. At its root, photomorphogenesis is a survival tactic – it's how the plant responds to miniscule changes in its environment to increase the chances of reaching full maturity and, eventually, reproducing. While cultivated cannabis plants won't reproduce at an indoor setting, growers can still use the light spectrum to encourage strong root and stem development, hasten the flowering process and the development of bigger, brightly colored flowers.
It makes sense that using the proper light spectrums may also have an impact on the production of specific cannabinoids and terpenes – an important factor when responding to highly specific consumer needs and desires, both within medical and adult-use markets.
Here are a few more reasons why utilizing full-spectrum LEDs can lead to higher quality cannabis:
Lower Heat, but the Same Intensity.
When compared to HPS, fluorescent and other conventional lighting technologies, LEDs have a much lower heat output, but provide the same level of intensity (and often improved uniformity). This represents an enormous advantage for cannabis cultivators, as the lights can be hung much closer to the plant canopy without burning trichomes than they would be able to with other lighting technologies.
UV Light. Cannabinoids and terpenes are part of the cannabis plant's natural defense mechanism, so it makes sense that lightly stressing plants can boost cannabinoid and terpene numbers. Some studies illustrate an increase in UV-B and UV-A light can lead to richer cannabinoid and terpene profiles.1 It's a fine line to walk, though – too much UV can result in burned plants, which leads to a noticeable drop in cannabinoids.
Full-Spectrum Capabilities. The cannabis plant evolved over millions of years under the steady and reliable light of the sun. Full-spectrum is the closest thing to natural sunlight that growers will be able to find for indoor growing – and they've been shown to perform better in terms of cannabinoid development. A 2018 study titled "The Effect of Light Spectrum on the Morphology and Cannabinoid Content for Cannabis Sativa L.," explored how an optimized light spectrum resulted in increased expression of cannabinoids CBG and THCV.2
This is the most important tip for indoor growers: your plants' environment is everything. It can make or break a successful harvest. That means cultivators are responsible for ensuring the plants are kept in ideal conditions. Lights are certainly important at an indoor facility, but there are several other factors to consider that can affect your lights' performance and the potency of your final product. This includes your temperature regulation, humidity, the density of plants within the space, CO2 concentration and many other variables. For the best results, your lights should be fully aligned with other environmental controls in your space. Nothing sabotages a once-promising crop like recurrent issues in the indoor environment.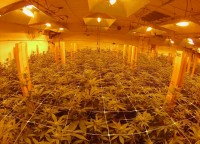 Cannabinoids and terpenes take time to develop – so cultivators will want to avoid harvesting their plants too early. On the other hand, these compounds begin to degrade over time, so growers can't wait too long either.
Cultivators seeking potent cannabinoid and terpene profiles must find a happy medium for the best results – and the best place to look is where cannabinoids and terpenes develop: the trichomes. With a microscope, cultivators can get up close and personal with these sparkly structures. Younger plants begin with clear trichomes, which eventually become opaque and change to amber. Once your plants show amber-hued trichomes, they're ready for harvest.
The truth here is that there's no perfect formula to elicit show-stopping cannabinoids and dizzying terpenes with every harvest. A lot of cannabis cultivation is based around trial-and-error, finding what works for your space, your business and your team. But understanding the basics around indoor environmental controls like lighting and temperature – and how they can affect the development of cannabinoids and terpenes – is an excellent place to start. Using high quality equipment, such as full-spectrum LED lighting can boost both cannabinoid and terpene production, resulting in richer, more potent and higher quality strains.
---
References:
Lyndon, John, Teramura, Alan H., Coffman, Benjamin C. "UV-B Radiation Effects on Photosynthesis, Growth and Cannabinoid Production of Two Cannabis Sativa Chemotypes." August 1987. Photochemistry and photobiology. Web. https://onlinelibrary.wiley.com/doi/abs/10.1111/j.1751-1097.1987.tb04757.x?&sid=nlm%3Apubmed
Magagnini G., Grassi G., Kotiranta, S. "The Effect of Light Spectrum on the Morphology and Cannabinoid Content of Cannabis sativa L." 2018. Medical Cannabis and Cannabinoids. Web: https://www.karger.com/Article/FullText/489030
The post Beyond THC: Encouraging Cannabinoid and Terpene Production with LEDs appeared first on Cannabis Industry Journal.