Now that cannabis edibles have been legalized nationally in Canada, many existing and aspiring license holders have been surprised to discover that they must comply with food safety regulations. This became crystal clear when Health Canada published their Good Production Practices Guide For Cannabis in August 2019.


With this development, it should be obvious to everyone that Good Manufacturing Practices (GMP) certifications are simply not enough.
Hazard Analysis and Critical Control Point (HACCP) based preventative control programs are now the absolute minimum and higher levels of certification (GFSI) should be on everyone's wish list.
HACCP is a methodology that is all about identifying biological, chemical and physical hazards and determining how they will be controlled to mitigate the risk of injury to humans. Recently, bio-terrorism and food fraud hazards have been added to the list and it is a good idea to address quality hazards as well.
The process of developing a HACCP program involves identifying these hazards with respect to ingredients, materials, packaging, processes and cross-contamination points (explicitly required in Canada only). However, it is a specific ingredient hazard that I'd like to talk about here.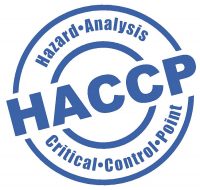 As this market has emerged, I've met with many cannabis companies as the onerous levels of knowledge and effort required to build and maintain an effective HACCP program manually has dawned upon the industry. Many are looking for technological solutions to quickly solve this problem. During these discussions, a curious fact has emerged that set off the food safety alarm klaxons around here.
Most people alive today are too young to remember this but, with few exceptions, the standardization of ingredients is a relatively modern phenomenon. It used to be that the fat content of your milk varied from season to season and cow to cow. Over time, the food industry standardized so that, amazingly, you can now choose between milks with either 1% or 2% fat, a level of precision that would border on miraculous to someone born in the early 20th century.
The standardization of ingredients is important in terms of both quality and safety. Take alcohol for example. We know that a shot of spirits generally contains 40% alcohol. Different products may vary from this standard but, if I pour a shot of my favourite Bowmore No.1 single malt in Canada or Tasmania, this year or 10 years from now, I can expect a consistent effect from the 40% alcohol content of the quantity I've imbibed.
Imagine a world in which this was not the case, where one shot would be 40% but the next might be 80%. Things could get out of control quite easily at the 80% level so, to avoid this, distillers monitor and blend their product to ensure they achieve the 40% target, which is called the "standardization marker".
With respect to cannabis, the obvious standardization marker is THC. During the manufacturing process, edibles manufacturers do not normally add cannabis flower directly into their products but instead add a THC concentrate produced during previous production steps. However, we've found that the wisdom of standardizing these concentrates has not yet dawned upon many in the industry, which is alarming at best and dangerous at worst.
The reason for this is that, since cannabis is inherently a heterogeneous plant, one cannot precisely achieve a particular marker value so the outcome of the concentration process is variable. The food industry long ago overcame this problem by blending or diluting to achieve a consistent marker concentration, but the cannabis industry has not yet adopted this advance.
The cannabis edibles industry is still immature and it will take time to bring all the necessary risk mitigation processes into place but one excellent place to start is to seriously consider standardizing concentrates to a THC marker.Instead, manufacturers simply keep track of the strength of each batch of concentrate and then adjust the quantity added to their recipes to achieve the desired THC content. This seems logical on the surface but presents a serious risk from the HACCP perspective, namely a chemical hazard, "Excessive psychoactive compound concentrations due to human error at levels that may be injurious to human health".
The reality is that workers make mistakes, which is why it is imperative to mitigate the risk of human error insomuch as possible. One of the best ways to do this is to standardize to avoid the scenario where a worker, faced with a row of identical containers that are differentiated only by a tiny bit of text, accidentally grabs the wrong bottle. The error isn't caught until the product has been shipped, consumed, and reports of hospital visits start coming in after the authorities trace the problem back to you. You must bear the costs of the recall, your reputation has been decimated and your company is floundering on the financial rocks.
US-based Drip More, LP recently found this out the hard way after consumers complained that their product tasted bad, bitter and/or harsh. An investigation determined that excessive nicotine content was the source of the problem and a voluntary recall was initiated. Affected product that had already been sold in 26 states. The costs of this recall have not been tallied but they will be staggering.
The cannabis edibles industry is still immature and it will take time to bring all the necessary risk mitigation processes into place but one excellent place to start is to seriously consider standardizing concentrates to a THC marker. This strategy is cheap, easy and you'll never be sorry.
The post Standardization: A Guide Through the Minefield appeared first on Cannabis Industry Journal.